When you think of mothballs do you associate them with pesticides or more of a harmless home remedy that gets rid of just about any unwanted creature you could imagine? I'm thinking most of you feel this pearly white marble or flaked product must be as harmless as dishwashing soap because I see it used in some of the craziest ways. From whole boxes dumped into fireplaces to keep the chimney pest free, to hundreds of little white marbles encircling a house to stop unwanted snakes. What duct tape is to the husband who insists on fixing any household item on his own, mothballs are to that same DIY who has ANY kind of pest control issue.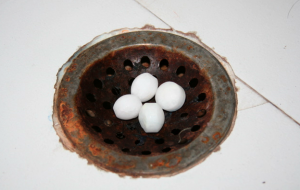 Mothballs are a pesticide no ifs, ands or buts! Naphthalene is an active ingredient that is commonly used in mothballs and paradichlorobenzene is the other. Both are used in high concentrations in the making of mothball products. Let's take a minute and see what these chemicals are;
Naphthalene was first registered as a pesticide in 1948. It is a solid that turns into a gas and it indeed kills insects and repels some animals. It is made from coal or crude oil but can also be produced when things burn. Cigarettes, exhaust from cars and forest fires all produce naphthalene. The main routes of exposure to naphthalene are inhalation and skin contact. Once inside your body this chemical breaks down and effects the liver, lungs and kidneys. Common symptoms of exposure are dizziness, headache and nausea. Children that may eat the mothball may have diarrhea, abdominal pain and painful and discolored urination. If someone breathes in enough of the vapor or eats a mothball containing naphthalene, they might develop hemolytic anemia. This is when red blood cells break apart, and no longer carry oxygen the way they should.
Paradichlorobenzene was first registered as a fumigant for moths in 1942. It too, goes from a solid to a vapor and poses many of the same risks as its cousin naphthalene. Irritation of the eyes and nose, nausea, dizziness and vomiting are signs of over exposure but paradichlorobenzene seems less likely to stay in the body as up to 50% can be excreted in one hours time with urination.
So Why Mothballs
Most mothball labels are pretty explicit about not breathing in vapors and avoiding skin contact. They also require that they be used in sealed containers where the gas cannot escape. I've not read any directions where it allows for using them in gardens, open areas or attics yet I see this way to often. Whenever you smell the strong odor of mothballs you are breathing in pesticides which in todays society I would think is strictly taboo. The little white marbles are pretty tempting to children as well- they pick them up out of curiosity and even eat them thinking they are some sort of candy.
Still the lure of a wonder product that has the reputation of chasing away pests and is not some sort of toxic spray must be comforting to some people. So many are absolutely convinced that mothballs are the answer to almost every pest control situation and are even less concerned about any hazards. I see it used for mice, squirrels, rats, snakes, roaches, unwanted dogs or cats, flies, fleas, ants and oh yes, even for moths. People with second homes such as snowbirds often sprinkle whole boxes around their home as they lock the door and head north for the summer. I have a few customers whose home wreaks so strongly of mothballs that we wear masks when we go in to perform service while they're away. I'm guessing that most folks don't even know that mothballs are pesticides and if they do, they are convinced they are fairly harmless. Besides, the ease of just throwing a 1/2 box out in the garage or up in the attic and letting the smell chase away their troubles is so much more simple than breaking out the spray.
Is there a myth associated with mothballs? Sure there is and I'll bet you thought I was gonna shoot down everything that they are NOT good for- I might just do that but not today. The myth I'm exposing is one you've probably never thought of consciously or passed off with little concern. The myth that mothballs are safe little white marbles and Ok to walk over and around everyday-the myth that mothballs are not pesticides. That is the dangerous myth I want you to be aware of and the one I wish you'd avoid.